New In: Eclipse Style Studio Pattern Books
Posted 24/02/2016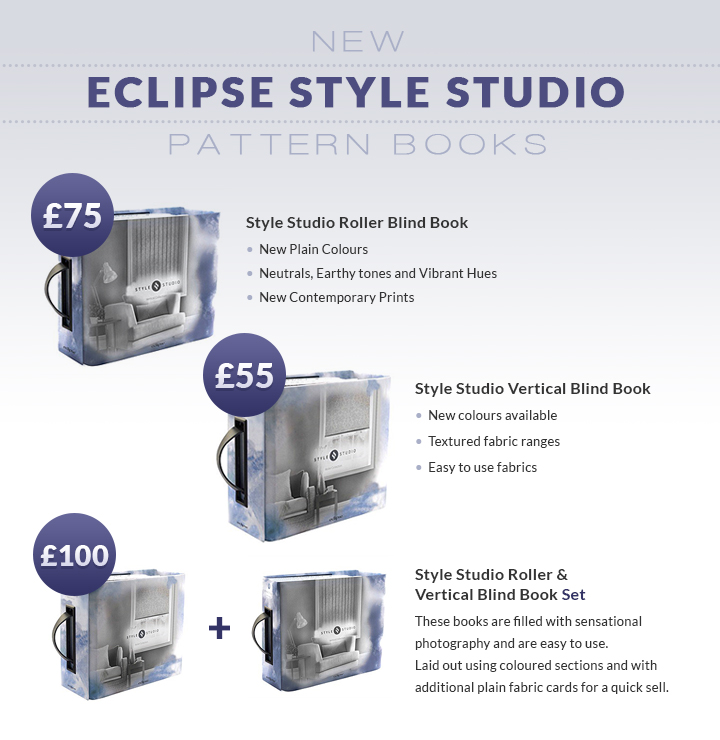 The Style Studio Roller and Vertical Collection from Eclipse features over 420 weaves and designs, and with these new pattern books, you can show them to your customers. Help your customers choose from 65 colours in the Palette plain fabric range and 42 in the Banlight range with easy to navigate coloured sections and additional plain fabric cards. Featuring striking photography, the new Eclipse Style Studio pattern books allow your customers to envision how each fabric could look in their own home – and with new colours and prints available, their design options are vast.
Get the Eclipse Style Studio roller blind pattern book for £75, or choose the vertical blind pattern book for £55. Buy them both together for just £100 – that's £30 less than their combined price when bought separately.
To find out more about our new Eclipse Style Studio pattern books, call us on 01603 789678 or email us at websales@lovelesscookblinds.co.uk.