Swish Countertop Displays Promotion
Posted 19/02/2016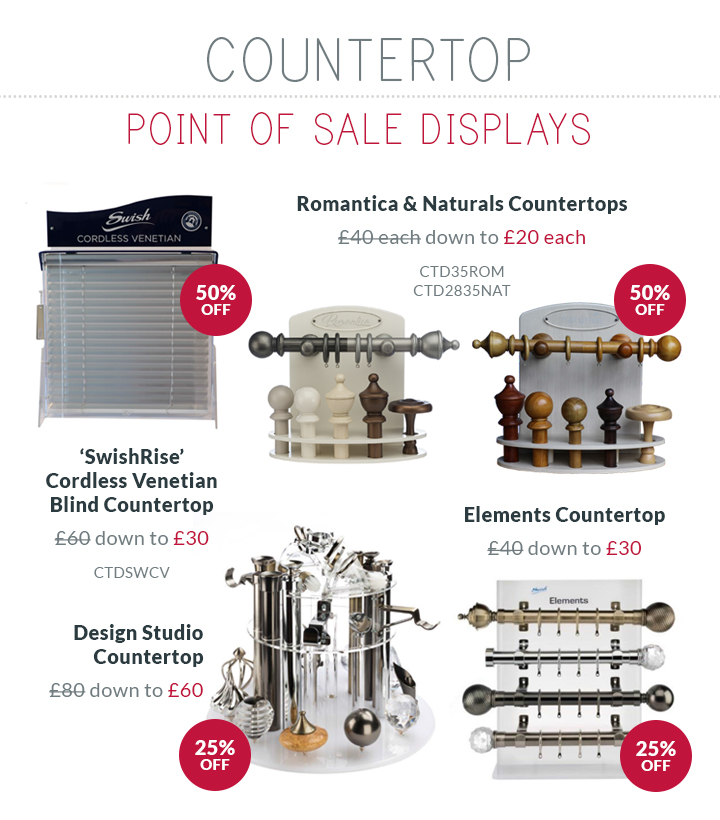 For many businesses, point of sale displays are an essential marketing tool. Whether used in-store or taken out on the road to present to potential customers, they offer the ability to showcase the range of products and finishes that you offer. For those businesses operating in our industry, they can be particularly useful and help customers when it comes to visualising the different design options which are available to them.
For that reason we are delighted to be able to bring you details of our latest spring promotion. Between 1st February and 1st April 2016, you can enjoy as much as 50% off when purchasing from our range of countertop point of sale displays. This offer includes:
'SwishRise' Cordless Venetian Blind Countertop Display (£60 Reduced to £30)
Introduce your customers to the brand new 'SwishRise' Venetian window blind. This innovative Child Safe blind incorporates a revolutionary new cordless system, allowing it to be raised, lowered and tilted with the simple touch of the bottom bar.
Romantica & Naturals Countertop Displays (£40 each Reduced to £20 each)
The Romantica and Naturals displays perfectly showcase the respective ranges decorative ball and graceful urn finials, as well five different finishes for the Naturals range and six finishes for the Romantica range.
Design Studio Countertop Display (£80 Reduced to £60)
In addition to eleven exciting finish designs, this display also includes all of the accessories and collars to accompany this range. It is therefore a great way of demonstrating all of the possibilities which are available to potential customers.
Elements Countertop Display (£40 Reduced to £30)
The Elements display offers an excellent introduction to this stunning range of metal curtain poles. Your customers will enjoy choosing from the five finials and four design finishes on display.
If you would like more information about any of the point of sale displays available in this promotion, please do not hesitate to get in touch. You can call us on 01603 789678 or drop us an email to websales@lovelesscookblinds.co.uk.