Use the Force: Star Wars & VELUX Galactic Night Collection
Posted 05/07/2017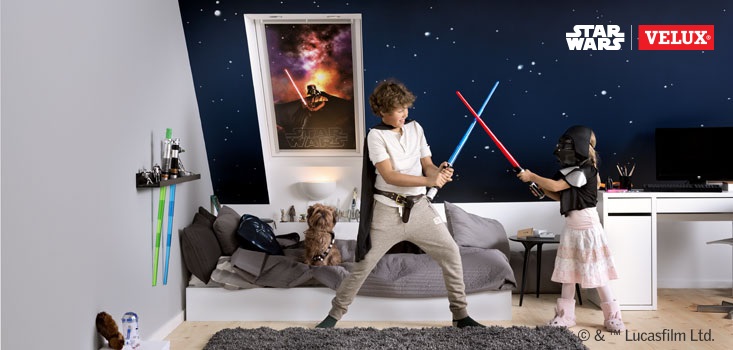 Star Wars fans young and old will love the new range of blinds from VELUX. The manually operated blackout blinds feature four exclusive designs inspired by adventures that took place a long time ago in a galaxy far, far away.
The Dark Side of the Force
The Star Wars & VELUX Galactic Night Collection is first and foremost a full blackout blind. Like all blackout blinds from VELUX, this blind offers a light-tight seal that guarantees no light will enter the room from outside.
These Aren't the Droids You're Looking For
The blinds are available in four exclusive designs:

For fans of the original trilogy, there's Darth Vader gripping his iconic red lightsaber.

X-wings take on Tie Fighters defending the Death Star in a space battle scene.

In the new trilogy, Kylo Ren is the latest evil Sith Lord.

Droids R2D2 and C3PO from the original trilogy are joined by their new counterpart BB-8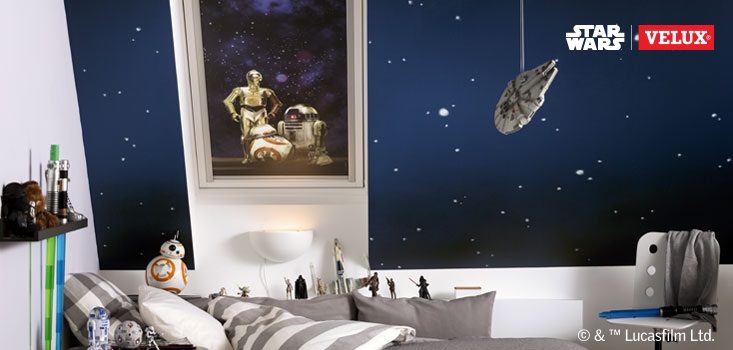 Use the Force, Luke
As most of us don't have telekinetic Jedi powers, VELUX have made the operation of these blinds as simple and intuitive as possible. The blind will be attached to the top casing of the roof window and will run smoothly up and down side channels. Operation is by a control bar that allows you to raise and lower the blind by hand. Safety is an important feature in a child's bedroom and this blind has no hanging loops or loose strings.
Help Me Obi-Wan Kenobi. You're my Only Hope
If you would like to stock the Star Wars & VELUX Galactic Night Collection, then get in touch with Loveless Cook Blinds. If you haven't already, why not
create an account
and take advantage of our regular offers. You can contact us on 01603 789678 or email
websales@lovelesscookblinds.co.uk
.