Get Ready for Child Safety Week on 6-12 June
Posted 03/06/2016
Next week will be Child Safety Week. Run by the Child Accident Prevention Trust (CAPT), the event aims to raise awareness of child accidents and educate people about how they can be prevented. At Loveless Cook Blinds, preventing child accidents is something we're committed to. As
supporters of the Make it Safe campaign
we supply child safe blinds and blind safety devices, to help prevent blind cord accidents. Find out more about this year's Child Safety Week, and how you can get involved.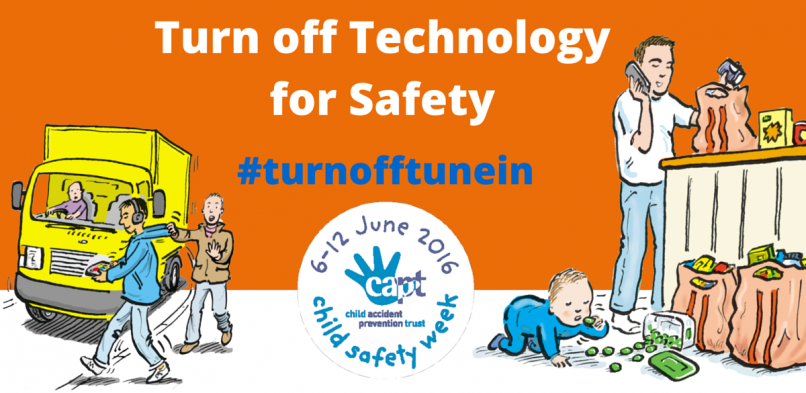 The theme for Child Safety Week 2016 is 'Turn off technology!' CAPT are encouraging parents and carers to minimise distractions by switching off their phone at times when they need to pay extra attention to children. In a
press release
, CAPT say:
"Accidents often happen when we're distracted. Serious accidents can happen alarmingly quickly, taking us by surprise.
"By turning off technology at crucial times in the day, parents can give their children their focus and so keep them safer when pressures mount. Young people can stay safer too by turning off technology at certain points in the day."
Research
commissioned by Confused.com in March found that over a quarter of parents say their child has injured themselves while they were in the same room, and a fifth say their child injured themselves when they had turned their back for a few minutes. It puts the theme of this year's Child Safety Week into perspective. Accidents can happen at any time, even when parents are close by, but they're more likely to happen when we're distracted.
This is the case with blind cord safety. Carers may not realise that looped cords pose a risk, and accidents can happen quietly, increasing the risk that a blind cord accident could occur when a child is left alone for a short time or when a carer is distracted. A
video
that emerged last year showing a young boy, Gavin Willa, caught on a blind cord while his mother was playing with her other children is a shocking reminder of that. Gavin, who is now 17, says he hopes the video raises awareness of the dangers of blind cords. Blind cord accidents are preventable, and window blinds that are child safe by design or installed with the correct blind safety devices remove the risk from looped cords. Find out more by watching the BBSA's series of
information videos
about child safe blinds.
There are many ways to get involved this Child Safety Week. Organise an event, show your children the engaging short Fireman Sam videos about staying safe, or simply share information on Facebook and Twitter to raise awareness. Visit
www.childsafetyweek.org.uk
to find out more.
What are you doing this Child Safety Week? Use the hashtags #childsafetyweek and #turnofftunein to join the conversation, and don't forget to tag us at @LCBWholesale to talk about child safe blinds.