Everything You Need to Know About Pleated Blinds
Posted 06/04/2016
At Loveless Cook Blinds, we supply a wide range of
wholesale window blinds
from some of the UK's most trusted manufacturers. Pleated blinds might be a less common style of window blind, but they have a range of great features that make them perfect for any modern home. Here's what you need to know.
What Are Pleated Blinds?
A versatile alternative to roller blinds or venetian blinds, pleated blinds are more lightweight and streamlined. With slim top and bottom rails, pleated blinds neatly draw up, concertina-style, when they're not in use, allowing you to enjoy all the light your window lets in. Guide wires running through the fabric attached to springs in the headrail makes opening and closing pleated blinds a smooth operation. Available in a range of finishes and coatings, pleated blinds are a good choice for controlling a room's light and heat, preventing energy loss in the winter and saving you money on your energy bills.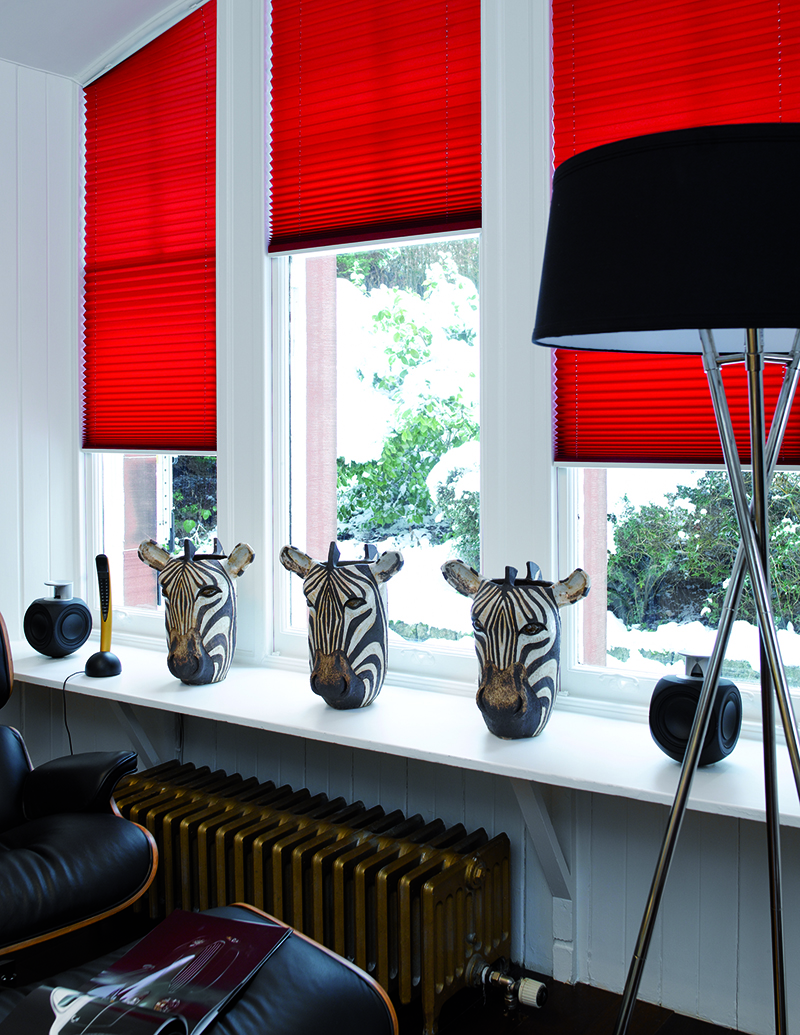 What Types of Pleated Blinds Are Available?
At Loveless Cook Blinds, we supply pleated blinds from INTU and from Eclipse's unique Unipleat range. With our wide selection of high quality pleated blinds, you can choose from several different kinds of pleated blinds:
Free hanging pleated blinds
Hanging vertically, free hanging pleated blinds have been described as a cross between roller blinds and venetian blinds. Operating with cords like a venetian blind, free hanging pleated blinds can be locked in any position between open and shut.
Tensioned pleated blinds have a bottom bar with an integrated handle, meaning you can easily draw them open and shut to the level you like with one hand. This makes them both accessible and child safe.



Designed specifically to be installed on sloped or horizontal ceilings, skylight pleated blinds give you more flexibility than other types of skylight blinds. You can open, shut or partially shut skylight pleated blinds, controlling the light and heat that enters your room, either manually or with a specially designed pole.
Are Pleated Blinds Child Safe?
Tensioned pleated blinds are child safe – in fact, the British Blind and Shutter Association (BBSA) recommends them in its campaign for child safe blinds, Make It Safe. Skylight blinds are usually difficult for children to reach, but skylight pleated blinds are child safe as they are not operated with cords, making them a good choice if your child's bedroom is a loft conversion, for example. Free hanging pleated blinds are operated with cords, so they need to be installed with a
blind cord safety device
to make them child safe. Remember, all styles of blinds can be made child safe if safety devices are properly installed.
To find out more about our range of pleated blinds, create an LCB trade account today. With an LCB trade account, you can order products from us online, take advantage of our special offers, and get free delivery on orders over £90.
And don't forget to like us on Facebook and follow us on Twitter at @LCBWholesale to stay up-to-date with our latest news, offers and interior design advice!