Beat the Speedy Products Price Increase
Posted 10/10/2016
From 1st November 2016, all items from Speedy Products will be increasing in price by 10%. If you're an LCB trade account holder – or you become one this October – you still have time to beat the price increase. Order your Speedy Products from Loveless Cook Blinds before the month is up.
About Speedy Products
Speedy Products is a world leader in window furnishings based in the UK and China. With over 30 years' experience in the industry, Speedy Products' extensive range features over 200 products, including curtain poles, finials, tracks, blinds and accessories, suitable for domestic and commercial use. Speedy Products believes in constant innovation to improve their products and find new solutions, regularly releasing industry-leading designs. As a member of SEDEX and WRAP, the brand is committed to reducing their impact on the environment, making their products an excellent choice for the ethically-minded supplier and consumer.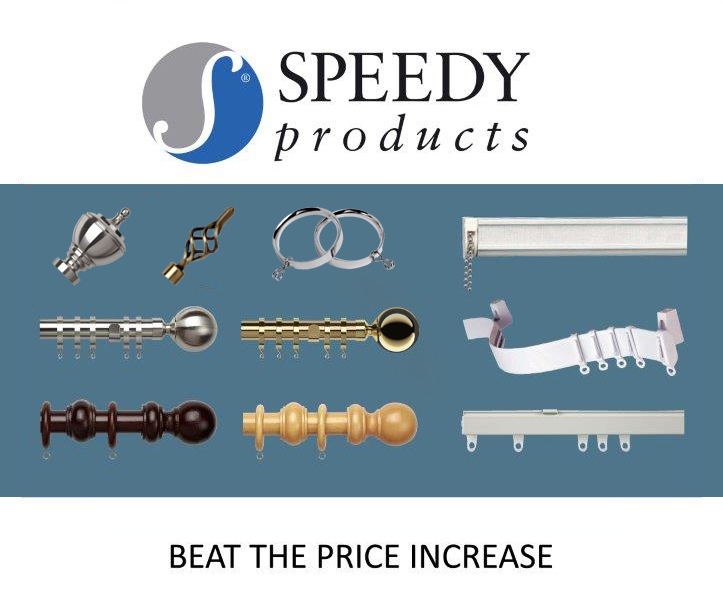 An Extensive Range
Speedy Products manufacturers a wide range of soft furnishings products, and their designs are among our most popular. These include:
Curtain Poles and Finials: Speedy Products' curtain accessories include the highly popular Poles Apart range – one of our most versatile and best-selling collections of poles and finials.

Blinds and Blind Accessories: Best-known for their practical and cost-effective blackout roller blinds, Speedy Products also manufactures a range of innovative accessories including streamline and fineline tracks that can fit almost any window.

Network: With tension rods, café rods, net rods, shower rods and net wire, Speedy Products has all the easy-to-use accessories you'll need for nets, voiles and lightweight curtains.

Order Now
You can see Loveless Cook Blinds' full Speedy Products range and place your order at our
online catalogue
– which has recently been updated to include around 5,000 products from the UK's most trusted soft furnishings brands. Our products are only available to trade customers, so create your LCB trade account today to place your Speedy Products order. Get in touch with our team at 01603 789678 or email
websales@lovelesscookblinds.co.uk
to create your trade account today.