Autumn Offers: New Roller Blinds
Posted 09/10/2015
At Loveless Cook Blinds there's nothing we like better than giving you a good deal. This autumn we've got some great promotional offers on our new blackout, eyelet and scalloped roller blinds.
From 19th October-30th November 2015 only, we've got a great offer on our new range of readymade roller blinds. All readymade with fade resistant fabric, they can be cut to size, making them a highly versatile product.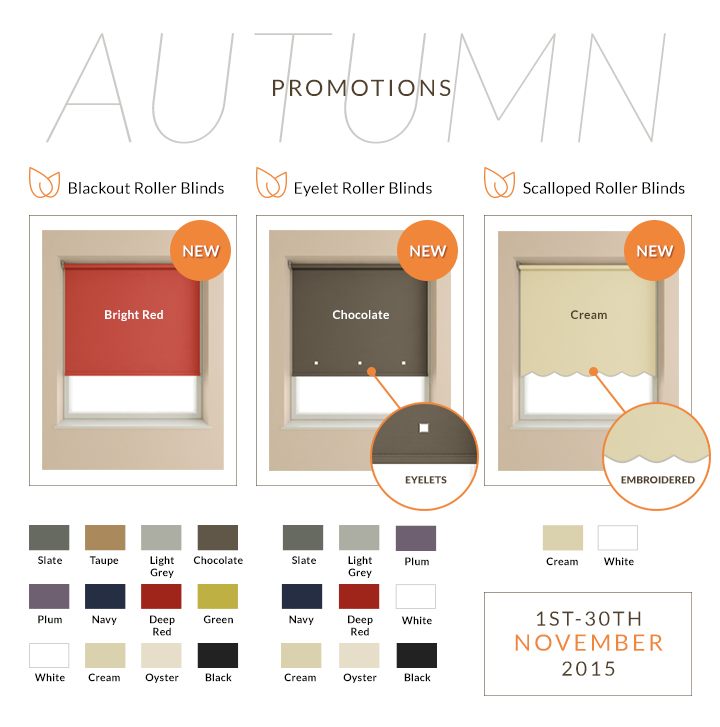 New Blackout Roller Blinds
Coming in 13 colours from Slate to Oyster, our new blackout roller blinds are more useful than ever, with a longer drop and larger sizes. Universal fittings and inside or outside recess flexibility make these a firm favourite.
New Eyelet Roller Blinds
With new 35mm x 35mm square eyelet detail in a sleek metallic finish, these blinds are a contemporary twist on a simple classic, offering a touch of elegance. Available in White, Cream, Oyster, Light Grey, Slate, Black, Plum, Chocolate, Deep Red and Black, they can give a modern accent to any home.
New Scalloped Roller Blinds
Coming in Cream and White, these roller blinds have a new embroidered scalloped design, making them a simple way to add a touch of quaint charm to a room.
For more information on this promotion and all of our products, call us on 01603 789678 or send us an email at websales@lovelesscookblinds.co.uk.